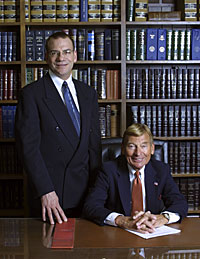 Michael & Dale Espich

FIFTY YEARS OF EXPERIENCE…
HUNDREDS OF PROFITABLE CLIENTS.

The principals of the Funeral Management Institute bring a combined total of well over fifty years experience to the aid of funeral home clients throughout North America. The insight they have gained during the last quarter century is at your disposal, and ready to help your company toward increased profitability.



Dale Espich

DALE ESPICH

has consulted with over 500 funeral service companies of all sizes during the past 40 years. A graduate of DePauw University with a double major in Economics and Psychology, he has made extensive presentations to funeral director groups, state funeral organizations, the National Foundation on Management, and mortuary schools.



Michael Espich

MICHAEL ESPICH

is the second generation to dedicate himself to helping funeral homes become more profitable. Michael is a University of Michigan graduate (School of Management) and has been the sole developer of computer applications for all the programs in the FMI stable. He joined the company in 1983 and successfully met the day to day challenges of working with FMI clients in the improvement of their profitability.
Together they have worked with firms ranging from 40 to 5000 calls annually in virtually all areas of Management, including Financial Analysis, Cost Analysis, Business Evaluations, Profit and Pricing Planning, Accounts Receivable Control, Arranger Training and Motivation, and Casket Merchandising.